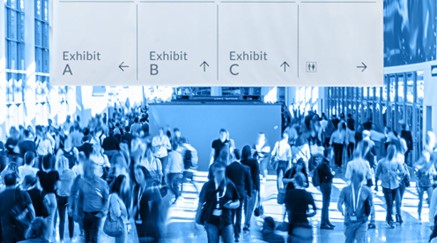 The busy trade shows & exhibition season is upon us yet again in the UAE, with GITEX Global gripping Dubai (16 – 20 Oct 2023). The UAE is known for hosting numerous trade shows and exhibitions throughout the year, covering a wide range of industries. While popularity can change over time, the trade shows & exhibitions identified below are some of the most popular ones that generates huge levels of interest, engagement, footfall and business opportunities in the UAE.
Here's an overview the top 10 trade show & exhibitions taking place in the UAE between October 2023 and April 2024.
GITEX Technology Week (16-20 Oct 2023)
Gulf Information Technology Exhibition (GITEX) is an annual technology trade show and conference held in Dubai, United Arab Emirates. It's one of the largest and most important tech events in the Middle East, showcasing the latest developments & innovations in the world of information technology, telecommunications, and related industries. As technology evolves, GITEX keeps pace by featuring the latest advancements in areas like artificial intelligence, cyber security, big data, virtual reality, augmented reality, and Internet of Things (IoT).
Beautyworld Middle East (30 Oct – 1 Nov 2023)
Covering a wide range of beauty and cosmetic products and services, including skincare, haircare, fragrances, makeup, nail care, and salon and spa equipment, Beautyworld Middle East is one of the largest and most prominent trade shows in the beauty and cosmetics industry in the Middle East region. Additionally, Beautyworld Middle East often hosts the "Fashion Forward Dubai" segment, which focuses on fashion and accessories. This showcases the interplay between beauty and fashion trends.
GESS Dubai Education Exhibition and Conference (30 Oct – 1 Nov 2023)
Held annually in Dubai (UAE), GESS IS a well-known international event in the education industry, which showcases products and solutions that can enhance the teaching and learning experience, including virtual reality, artificial intelligence, and interactive whiteboards. GESS Dubai attracts a diverse audience, including teachers, school leaders, education policymakers, edtech entrepreneurs, and more. This diversity fosters a dynamic and enriching environment for sharing ideas and experiences.
Gulfood Manufacturing (7-9 Nov 2023)
The Gulfood Manufacturing trade show offers a comprehensive display of products and services related to food manufacturing, including ingredients, equipment, packaging, and processing technologies. Known for its Innovation Hub, which features the latest advancements in food technology, from automation and robotics to sustainable packaging and processing methods, the event is not only a showcase for the Middle East, but also attracts international companies looking to expand into this market.
Dubai Airshow (13-17 Nov 2023)
Known for showcasing cutting-edge aerospace technology, facilitating industry networking, and serving as a platform for major announcements and deals in the aviation and defence sectors, the Dubai Airshow is typically held every two years at the Dubai World Central (also known as Al Maktoum International Airport), alternating with the Farnborough International Airshow in the United Kingdom. Whilst spectacular flight displays are a highlight of the event, the event provides a unique platform for networking within the aerospace and aviation industry. Attendees can meet industry leaders, government officials, and potential business partners from around the world.
The Big 5 Global (4-7 Dec 2023)
The Big 5 is the largest and most influential construction exhibition in the Middle East. The event continues to attract a wide range of professionals & experts from the construction and infrastructure sectors, making it a vital platform for networking and business opportunity. The Big 5 often emphasizes sustainable construction materials and practices, promoting eco-friendly solutions and innovations. Sustainability and green building practices have been gaining importance in the construction industry.
Intersec (16-18 Jan 2024)
The Intersec trade show features a diverse range of exhibitors, including manufacturers, suppliers, and service providers in various sectors such as video surveillance, access control, cybersecurity, fire protection, and emergency services. Often highlighting the latest technological innovations in the security and safety industry, Intersec is a source of market insights, as it attracts professionals and thought leaders who can provide information on market trends, challenges, and opportunities in the security and safety sector.
Arab Health (29 Jan – 1 Feb 2024)
A prominent healthcare and medical trade show that takes place annually in Dubia, Arab Health is among the largest healthcare exhibitions in the world. It typically features thousands of exhibitors and attracts tens of thousands of healthcare professionals, including clinicians, researchers, policymakers, industry representatives and companies from around the world to showcase the latest medical technologies and innovations.
Gulfood (one of the world's largest and most influential annual food and beverage trade shows) is a dynamic and ever-evolving event that continues to shape the food and beverage industry by connecting businesses, promoting innovation, and facilitating the exchange of knowledge and ideas. Like many trade shows in recent years, Gulfood has also placed a significant focus on sustainability. Many exhibitors highlight their eco-friendly practices, from sourcing to packaging. Furthermore, Gulfood caters to both the retail and foodservice sectors, making it relevant for businesses in various segments of the food and beverage industry.
Dubai International Boat Show (28 Feb – 03 Mar 2024)
The Dubai Boat Show attracts some of the world's most renowned yacht manufacturers and designers. Aside from its opulence nature, the Dubai Boat Show often showcases the latest advancements in marine technology and innovations, from environmentally friendly propulsion systems to cutting-edge navigation tools. Additionally, the show features a wide range of exhibitors, not limited to just yachts and boats. You can find marine equipment, water sports accessories, fishing gear, and various other maritime-related products.
The UAE continues to host a wide range of trade shows covering various industries, including technology, healthcare, food & beverage, construction, beauty & cosmetics and more. Whilst UAE trade shows are often international in scope, attracting participants, exhibitors, and attendees from all corners of the globe, these platforms offer an array of opportunities for UK SMEs and exporters to network, meet with potential clients, customers, partners & investors, as they look to further their global business expansion into new markets and regions.