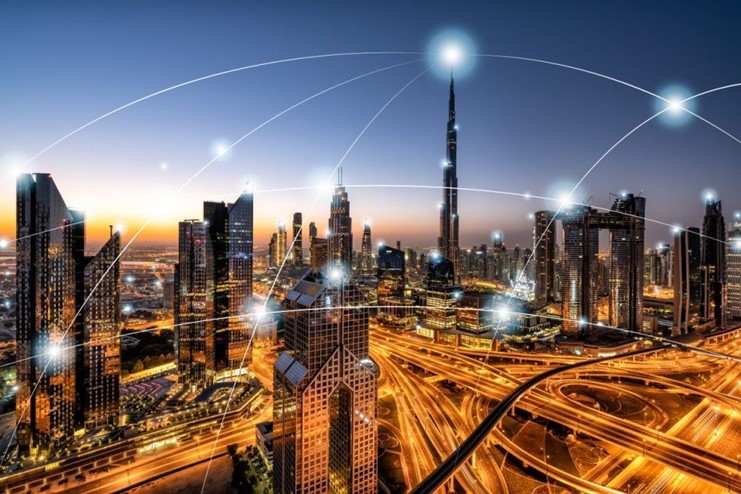 Smart cities in the UAE are on the cutting edge of technology and urban development. They're defined by their use of artificial intelligence (AI) and digital transformation to create efficient, sustainable, and highly connected urban environments. As we explore the smart city initiatives in the UAE, we'll look further at how they are shaping the future of urban living and where UK SMEs could leverage their expertise.
UAE's smart cities rely on state-of-the-art infrastructure, leveraging technologies such as AI, IoT, data analytics and digital transformation. The 'Smart City Index 2021,' published by the Institute for Management Development (IMD) and Singapore University for Technology and Design (SUTD), ranked Abu Dhabi and Dubai as the smartest cities in the Middle East and North Africa (MENA) region.
The expeditious advancement of smart cities in the UAE not only enhances the quality of life for both its citizens and residents, but also offers opportunities for UK SMEs and exporters. Nevertheless, the rapid urbanisation of the UAE demands intelligent urban planning and efficient governance. AI is pivotal in e-governance and public services, making it easier for citizens & residents to engage with authorities.
Additionally, the UAE is making a concerted effort to transition to sustainable energy sources. AI in this instance, is central to managing energy grids and predicting energy demand. Dubai, in particular even so, is also making significant strides in automated vehicles and smart mobility. By 2030, the Emirate plans to transform 25% of its total transportation into autonomous modes. This opens an array of opportunities for UK tech firms able to provide customized solutions for traffic management, energy optimization, cybersecurity and citizen engagement platforms to support these smart cities.
The UAE's smart cities serve as a global blueprint for urban development. Whilst British firms can provide insights into urban planning, digital transformation strategies, and data analytics to assist city governments in making informed decisions, it is worthwhile remembering that strong local partnerships and an understanding of the unique challenges posed by the UAE's climate and urban environment are vital for capitalising on the opportunities offered by these smart cities.